From April 21 to 25, Jamaica will host 
KingstOOn 2021
, the animation conference that will be virtual and with free access. The event is  organized by the Government of Jamaica through the 
Youth Employment in Digital and Animation Industries
 (YEDAI) in collaboration with the 
World
Bank
. Registration will begin in February next year at 
www.kingstoonfest.com
, and the event will continue to catalyze the efforts being made in the public, private and multilateral sectors  to attract the attention of the international community the strides that have been made in Jamaica's animation industry and the untapped potential of our local creatives.  
Margery Newland, Project Manager of YEDAI, comments on the three objectives of the event: 'We aim to provide Jamaican and Caribbean animators ways to continue learning about the global industry; to create opportunities for producers to generate profits from their projects; and to showcase diverse content, showcasing products from around the world that reflect characters, stories, cultures and values of under-represented communities in screen-based industries, especially stories about(?) and created by people of African descent'.
KingstOOn 2021 will comprise "Animation Competitions",  for which applications are already open and will close on February 22; the "Pitch Boot Camp" where the finalists of the competition will be mentored and will be able to refine their pitch concepts and capabilities under the gaze of global experts; Keynote speakers and Panel discussions round increasing opportunities and handling challenges, while supporting young animators to identify and apply their competitive advantages in the international arena.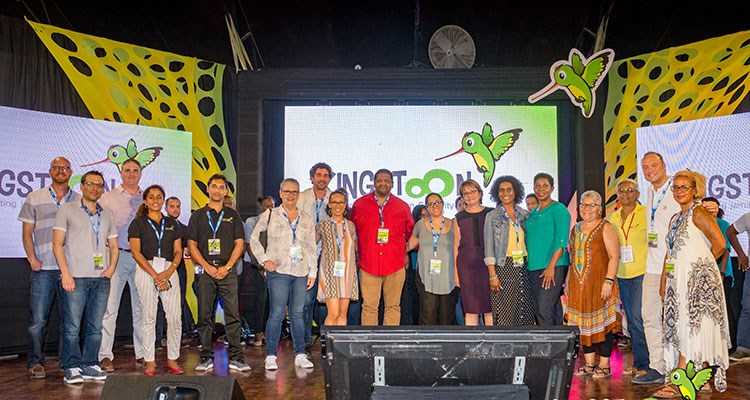 Organizers and Winners at KingstOOn 2019
The Master Classes will explore emerging perspectives for professional development for animation specialists, as they will delve into technical aspects, examine case studies, and provide demonstrations of 2D and 3D software possibilities.  An Expo, will allow access to the service offerings of hardware and software companies; Educational institutions in Jamaica and throughout the region will present training and professional development options.  The Film Festival, a virtual exhibition of international content that presents diversity and significant Caribbean content.  Business to Business  (B2B) meetings, where users can connect with other participants and schedule individual meetings with animation buyers and sellers,will also be a feature. The "Pitch Competition" comes to #FeverPitch as teams present their ideas in front of a live audience at the Pitch Competition Finals to be evaluated by a panel of executives from leading studios.  This will culminate in an  Awards Ceremony where the winners of the contests will be announced, the sponsors present the awards and prizes, and followed by a virtual Jamaican branded Cocktail Reception. 
Competitions
This year's KingstOOn topic is "Celebrating Diversity in Animation". The global film and animation industry is moving towards greater diversity and inclusion, and recent years have seen a greater increase in the need for diverse stories and content, with more representation of underrepresented groups. The contests encourage submissions that reflect the characters, stories, cultures, and values of underrepresented communities in screen-based industries, including stories created by people of African descent.
The competition categories are three: 
KingstOOn Emerging Animated Content Competition 
(KEACC) for citizens of the Caribbean on storyboard, character design, short film and concepts; KingstOOn International Animated Film Competition (KIAFC) on the film industry of special effects, students, short and feature films; and the KingstOOn Pitch Bootcamp and Competition with the four finalists from KEACC's "Best Concept Category" participating in the 
Pitch Boot Camp
 (March / April) and the Competition (April). This campus will give participants the opportunity to receive advice and guidance concepts from experts from the global animation industry. Teams will pitch those ideas live to an audience of industry experts. Projects can be submitted 
here.